Rotations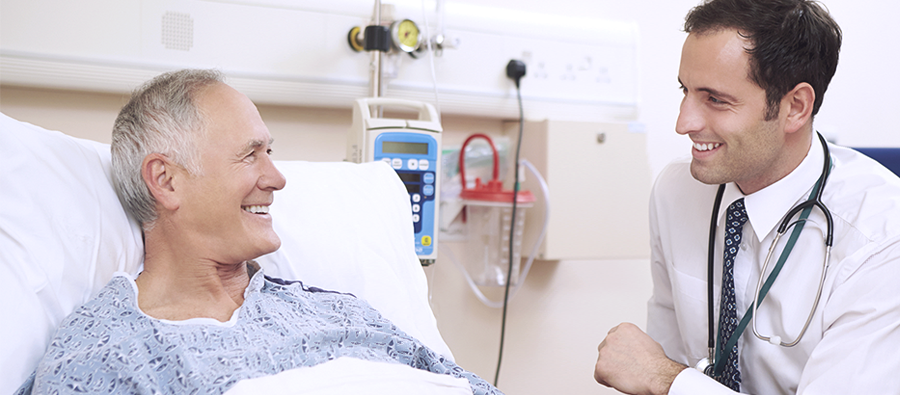 Clinical Cardiology Service
In the clinical rotation, two fellows form the core of a clinical team, composed of a rounding attending cardiologist (Dr. Michael Johnstone, Dr. James P. Morgan, Dr. John O. Pastore, Dr. Michael Maysky or Dr. Lana Tsao), residents on cardiology elective, and medical students. Daily activity involves rounding in the Coronary Care Unit (CCU), Surgical Intensive Care Unit, and telemetry floors and responding to consultation from other services. Experience in procedures, which are performed with the house staff, includes pericardiocentesis, pulmonary artery catheterization, intra-aortic balloon counter pulsation, and temporary pacing. As in other clinical rotations, the fellows read hospital electrocardiograms on a daily basis, receiving feedback after the tracings are over-read by an attending cardiologist. Given the depth of clinical experience in this rotation, each fellow is able, by the end of the second year, to deal effectively with most consultations. In the third year, senior fellows periodically have the opportunity to employ their ability to formulate an effective management plan by leading rounds in the CCU under the supervision of an attending cardiologist.
Cardiac Catheterization Laboratory
In the Catheterization Laboratory, each first-year fellow receives an introduction to diagnostic catheterizations as an assistant in a high-volume, state-of-the-art laboratory performing over 1,500 procedures per year under the direction of Dr. Lawrence A. Garcia with additional interventional staff, including Dr. Joseph P. Carrozza, Jr., Dr. Peter Soukas, and Dr. Faisal Khan. This exposure leads to increasing independence in the performance of diagnostic procedures in the second and third fellowship years, along with progressive participation in a variety of interventional procedures. By the end of the catheterization experience, each fellow has had direct experience with balloon angioplasty, stent deployment, directional and rotational atherectomy, percutaneous closure of patent foramen ovale, myocardial biopsy balloon valvuloplasty, and peripheral vascular disease management and therapy. The fellows are responsible for evaluating each patient and for formulating an action plan for all diagnostic and interventional procedures in consultation with the attending cardiologist. Fellows prepare a weekly catheterization conference devoted to a relevant topic with representative clinical cases and a review of the literature.
Interventional Cardiology Training
Interventional cardiovascular training begins in the third year of the cardiovascular fellowship. This two year track will encompass the full breadth of interventional training to include but be exclusive to balloon angioplasty, coronary artery stenting, directional and rotational atherectomy, as well as structural heart disease therapy such as PFO/ASD and valvular interventions. Further, given the robust vascular medicine program the interventional fellow will further be trained in the full breadth of vascular disease interventions such as lower extremity, extra-cranial carotid, and other arterial disease lesions such as renal and subclavian. Additionally, training in venous interventions and non-invasive vascular reading will occur throughout the fellowship.
Noninvasive Cardiology and Nuclear Medicine
Each first-year fellow receives an initial exposure to echocardiography as a component of the noninvasive rotation. Daily responsibilities include direct participation in the performance of all exercise treadmill testing, both with and without concomitant nuclear and echo imaging. Fellows are directly involved in the performance of pharmacologic (adenosine, dipyridamole and dobutamine) stress studies. Afternoon hours are spent reading the day's nuclear studies with Dr. Alan Ashare and Dr. Maysky, and interpreting echocardiographic studies with Drs. Maysky, Pastore, Johnstone and Morgan. Individuals desiring a license in nuclear medicine have ample opportunity over the course of three years to amass the required clinical, laboratory, and classroom hours. Extramural programs for formal classroom instruction are available at St. Elizabeth's Medical Center with Dr. Ashare.
Echocardiography Laboratory
Month-long rotations in the Echocardiography Laboratory provide fellows in the second and third years an in-depth introduction to cardiac ultrasound with Drs. Maysky, Pastore, Morgan and Johnstone. Imaging modalities include transthoracic echocardiography, multi-plane transesophageal echocardiography, epicardial echocardiography, exercise stress echocardiography, and dobutamine stress echocardiography. The laboratory operates three Philips Sonos 5500 systems, representing the leading edge in imaging technology. Intra-operative interaction with cardiothoracic surgeons provides unique decision-making experience in the fast-paced environment of the operating room, most notably in the management of mitral valve repair. The rotating echocardiography fellow leads a weekly conference, presenting focused topics in echocardiography with illustrative case studies and relevant literature. The aim of this rotation is to create proficiency in the performance and interpretation of transthoracic echocardiography, and to provide a firm foundation for further experience in transesophageal echocardiography. The emphasis throughout is on hemodynamic quantization and the integration of echocardiographic data with the clinical history. With more than 5,500 studies per year performed by this laboratory, the acquisition of echocardiographic expertise is a realistic goal.
Cardiac Electrophysiology and Pacing Service
In the second and third years, each fellow rotates through the Cardiac Electrophysiology Laboratory. Under the direction of Dr. John V. Wylie, Jr., Dr. Shaw Natan and Dr. Michael V. Orlov, the fellow rounds daily on the inpatient EP service and participates directly in the invasive and noninvasive procedures in the electrophysiology laboratory, including diagnostic electrophysiology studies, radiofrequency ablation, cardioversion, permanent pacemaker implantation, pacer-cardioverter-defibrillator implantation and follow up testing, implantable loop monitor placement, and tilt-table testing. In addition, each fellow receives an abundant exposure to the outpatient management of implantable anti-arrhythmia devices in several busy clinics. Most of the fellows coming out of the program are well trained to implant permanent pacemakers and independently analyze, program and troubleshoot ICD devices after rotating through one of the busiest electrophysiology services in the New England area. Fellows with a particular interest in electrophysiology have the opportunity to focus their efforts in their third year and to apply for a fourth year as an electrophysiology fellow.
Vascular Medicine Service
The Division of Vascular Medicine at St. Elizabeth's Medical Center has played a pioneering role in the development of various diagnostic and therapeutic approaches to patients with atherosclerotic vascular disease and is a unique and special feature of the cardiology fellowship program. Rotation on this service provides experience with the management of peripheral vascular disease in both inpatient and outpatient settings. Aspects of this service include interpretation of non invasive vascular studies and participation in diagnostic and therapeutic catheterization. St. Elizabeth's Medical Center is a regional referral center for carotid artery and renal artery angioplasty and stent implantation. In addition, the Division of Vascular Medicine has gained national and international recognition for uniting molecular biology with interventional cardiovascular medicine in the trials of vascular endothelial growth factor (VEGF) in patients with severe peripheral vascular disease and coronary artery disease. Fellows who develop a strong interest in peripheral vascular disease have the opportunity to apply for a fourth-year fellowship position dedicated to this subspecialty.
Cardiovascular Research
It is expected that each fellow will become involved in the formulation and execution of a project in cardiovascular research. This participation may involve a continuation of research interests in progress prior to fellowship. Generally, research activity receives a special emphasis in the third fellowship year. Fellows are encouraged to submit research abstracts to national meetings. A wealth of logistical support lies within the research infrastructure at the cardiovascular research facilities in ACH building encompassing vascular gene therapy, therapeutic angiogenesis, and restenosis. A weekly Wednesday morning research conference attracts individuals from around the world who have made landmark contributions in clinical and basic sciences. Every fourth Wednesday morning, ongoing research protocols in cardiac electrophysiology are discussed in detail and progress of the fellows involved with research in EP section is monitored. Special research meetings are also held prior to national meetings where fellows rehearse their presentations for critique by the faculty and peers.
Ambulatory Clinic
Each fellow is assigned a continuity care clinic half a day, once a week with a designated staff member in the Cardiology Division at St. Elizabeth's Medical Center. Fellows see new patients whom they subsequently follow on a continuous basis during follow up appointments over the course of the 36-month fellowship. Dr. Pastore runs an extremely busy Cardiology Clinic at the Chelsea Soldiers' Home and the assigned fellow travels with him every Thursday afternoon for the duration of the training. Additionally, fellows actively participate in the Peripheral Vascular Clinic and Pacemaker/ICD Clinics.
Congenital Heart Disease
In order to provide an intensive exposure to adults and children with congenital heart disease, each fellow spends one month in the second year of their training with Dr. Richard Liberthson, a world-renowned expert in this field, in his busy clinical practice at the Massachusetts General Hospital.
Technical and Other Skills
The program provides sufficient experience for the fellow to acquire skill in the performance and interpretation of:
History and physical examination
Basic and advanced cardiac life support
Elective cardioversion
Bedside right heart catheterization
Insertion and management of temporary (transvenous and transcutaneous) pacemakers
Right and left heart catheterization, including coronary arteriography; fellows participate in a minimum of 150 catheterizations
Percutaneous transluminal coronary angioplasty and other interventional procedures
Intra-aortic balloon counter pulsation
Percutaneous closure of patent foramen ovale
Myocardial biopsy
Pericardiocentesis
Intracardiac electrophysiologic studies
Programming and follow-up surveillance of permanent pacemakers and ICDs
Exercise stress testing; fellows perform a minimum of 50 exercise tests
Echocardiography; fellows must perform a minimum of 75 and interpret a minimum of 150 studies, including transesophageal studies
Cardiovascular rehabilitation
Chest X-rays
Minimum of 3,500 electrocardiograms
Minimum of 150 ambulatory ECG recordings
Radionuclide studies of myocardial function and perfusion