Hematology / Oncology Fellowship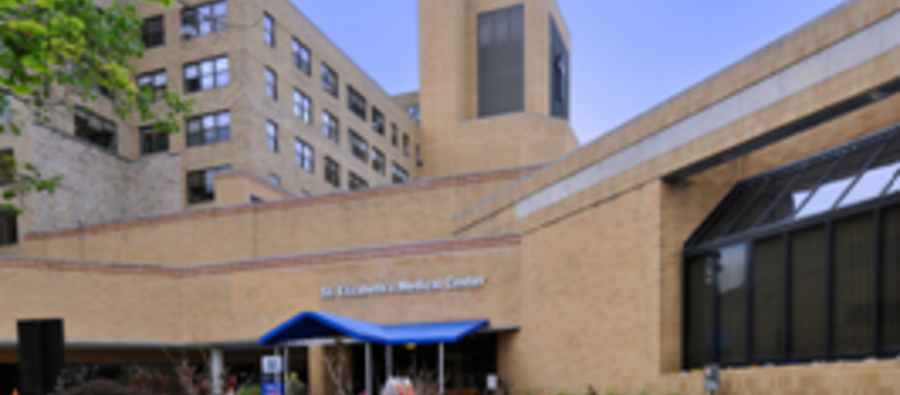 Welcome to the St. Elizabeth's Medical Center Hematology Oncology Fellowship Program
About St. Elizabeth's Medical Center
St. Elizabeth's Medical Center is a major academic medical center affiliated with Tufts University School of Medicine and part of the Steward Health Care Network. The hospital has ACGME-accredited training programs in the specialties of internal medicine, general surgery, psychiatry and anesthesiology. We have fellowship programs in hematology/oncology, pulmonary/critical care medicine, cardiovascular medicine, interventional cardiology, electrophysiology and pain management. Our unaccredited programs are in cardiothoracic anesthesia, peripheral vascular disease, and urologic laparoscopy and robotic-assisted surgery. Areas of medical excellence include cardiology, cardiac surgery, neurosciences, general and robotic surgery, bariatric surgery, women's health, high-risk obstetrics, bone and joint health, hematology/oncology, pulmonary medicine and emergency medicine.

About the Hematology Oncology Division
In 2011, St. Elizabeth's and Dana-Farber collaborated to provide excellent hematology/oncology services to the community. Dana-Farber Cancer Institute at Steward St. Elizabeth's Medical Center (DFCI at SEMC) provides the latest in hematology and medical oncology care in a convenient, newly-redesigned setting at St. Elizabeth's in the Cushing Pavilion as well as a newly renovated infusion center, radiation center, and Intensive Care Unit.  Patients enter the system through the inpatient consult service (hematology, oncology, transfusion) or through direct referral to the outpatient clinic. 

About the Hematology Oncology Fellowship Program
The fellowship program is sponsored by St. Elizabeth's Medical Center and is approved for 7 positions. Fellows work closely with key faculty participating in their outpatient continuity clinics at DFCI at SEMC. Faculty members have expertise in a variety of areas including thoracic oncology, genitourinary oncology, hematology oncology, breast oncology and GI cancers resulting in numerous research opportunities for fellows.
First and second year follows are assigned primarily to the SEMC campus participating in continuity clinics and covering the consult service. One faculty member oversees the inpatient consultation service and meets regularly with fellows assigned to the service.
In addition to continuity clinic and consult service, third year fellows participate in one-month inpatient rotations in bone marrow transplant and leukemia at Brigham and Women's Hospital.  Second and third year fellows also go to DFCI main campus for electives in less common cancers (i.e. head and neck, neuro oncology, sarcoma, melanoma). 
Fellows regularly attend and present cases at the following multidisciplinary conferences held at SEMC (Thoracic Oncology Conference, GI/Hepatobiliary Conference, Center for Breast Care Conference, and GU Conferences).  In addition, the faculty encourages and fully supports the fellows' attendance at the Orientation Lecture Series held weekly at DFCI main campus and MGH.
All fellows sit for the ASCO and ASH in-training exams annually.  Third year fellows are given the opportunity to attend a week-long board review course at Harvard Medical School.

Our Faculty
Medical Director and Interim Program Director, Dr. Christopher Lathan (Thoracic Oncology)
Associate Program Director, Dr. Olga Kozyreva (Medical Oncology/ Genitourinary Oncology)
Dr. David Steensma (Hematologic Oncology)
Dr. Caroline Block (Medical Oncology/ Breast Oncology)
Dr. Jeffrey Wisch (Medical Oncology/GI Cancers)
Dr. Darren Evanchuk (Hematologic Oncology) 

Applying
Please note that your application will not be processed until the letter of recommendation and USMLE scores are received. We require three letter of recommendation one of which must be from your current or former program director, a personal statement and copies of your USMLE scores.
Applicants with one of the following qualifications are eligible for consideration for the Hematology Oncology Fellowship Program:
Graduates of medical schools in the United States and Canada accredited by the Liaison Committee on Medical Education (LCME)
Graduates of colleges of osteopathic medicine in the United States accredited by the American Osteopathic Association (AOA)
Graduates of medical schools outside of the United States and Canada who meet one of the following criteria:
Have received a currently valid certificate from the Educational Commission for Foreign Medical Graduates prior to appointment, or
Have a full, unrestricted license to practice medicine in a U.S. licensing jurisdiction in which they are training
Graduates of medical schools outside the United States who have completed a Fifth Pathway Program provided by a LCME-accredited medical school.

Postdoctoral Education and Training
To be eligible for training in hematology oncology at St. Elizabeth's Medical Center, successful completion of a program of residency in internal medicine, which is accredited by the ACGME and which is a minimum of three years in duration is mandatory.

Selection
Ranking of eligible applicants for the fellowship is performed on the basis of their preparedness, ability, aptitude, academic credentials, communication skills and personal qualities (such as motivation and integrity). St. Elizabeth's Medical Center strictly prohibits discrimination in trainee selection based on sex, race, age, religion, color, national origin disability, or veteran status.
The Hematology Oncology Fellowship Program at St. Elizabeth's Medical Center participates in the National Resident Matching Program (NRMP) for matching of ranked applicants.

Visa Requirements - St. Elizabeth's Medical Center sponsors the following visas:
Exchange Visitor J-1, Required for all International applicants
The foreign national physician must pass Step 1 and Step 2 Clinical Knowledge (CK) of the United States Medical Licensing Examination (USMLE), or an examination determined to be equivalent to the NBME by the Secretary of the US Department of Health and Human Services. In addition, the foreign national physician must hold a valid Standard ECFMG certificate; have a contract with an ACGME-accredited program at St. Elizabeth's Medical Center, provide a written statement from the Ministry of Health in the country of most recent legal permanent residence that attest to the need for physicians trained in the exchange visitor's specialty and that verifies that the exchange visitor has filed written assurance that he/she will return to the county upon completion of training. The duration of participation for the exchange visitor at St. Elizabeth's Medical Center is for the time required to meet the educational requirements for certification by an American specialty board that has been recognized by the American Board of Medical Specialties. Duration of participation is further limited to a maximum of 7 years.
Temporary Worker H-1B visas will not be supported for this academic year.
Once again, we value your interest in the Hematology Oncology Fellow Program at St. Elizabeth's Medical Center. Should you have any additional questions, please contact Linda Armstrong, fellowship program coordinator at: [email protected].